Pathway To Success In The FMCG Industry With Far Way – Suraj Gautam
Read Time:
3 Minute, 25 Second
We got a chance to interview Suraj Gautam, the Managing Director of Far Way General Trading LLC. It's a shipping and trading services company headquartered in Dubai, UAE. They have multiple branches across the globe, and Suraj aims to take it to the next level by opening more branches in the coming future.
He is a passionate entrepreneur who focuses on his company's growth along with client satisfaction. Learn more about Surqaj Gautam and Far Way General Trading LLC through our interview.
How It Began?
We were curious about the idea behind Far Way and what made Suraj start his entrepreneurship journey. So, we first asked him, "What is the idea behind your company?"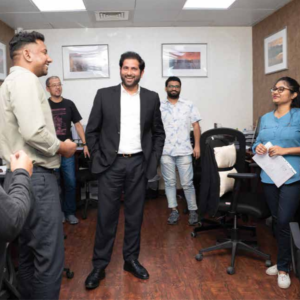 He replies, "During the early 80s, we didn't have many entertainment choices, considering how we didn't have enough access to TV, YouTube or other social media platforms. Due to this, we were mostly immersed in books and magazines most of the time. I read Bollywood and entrepreneur success stories, which intrigued me to become an entrepreneur. Far Way General Trading LLC was established in 2001 with a motive to provide a flexible approach towards end-to-end shipping and trading services."
Our next question to Suraj was, "Tell us about your career journey?"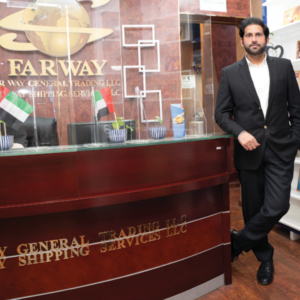 He says, "My entire professional journey has been very interesting, with a lot of ups and downs. And I must say, the UAE is indeed a land of opportunities. The wind in UAE is very favourable for newcomers with dreams in their eyes. This motivated me to follow the 3R formula – Right person, right time, right place, and my own strategy of making the right decision."
Success In The FMCG Industry
We were also curious about understanding the goal of Far Way. When we asked Suraj about it, he replied:
"We want to expand our company, Far Way, worldwide. We work with suppliers and customers across the globe. We aimed to open offices on different continents to cater to those customers, and our hard work started paying off. As of now, we have branches in Tanzania, Kenya, Ireland, and Poland and a few more offices are scheduled to open next year."
We further asked, "Can you tell us more about your success in the FMCG industry?"
"FMCG is a fast-moving consumer business, so definitely what you buy sells very quickly. Procuring and selling products worldwide is not difficult, but finding a reliable sourcing/buying partner is a tough task. Since we have been on the market for 22 years, our first and foremost motto is to remain reliable. Yes, we are a 22 years old well-reputed company in this FMCG industry," Suraj Gautam, the Managing Director of Far Way.
Strength For Overcoming Challenges And Adapting To Technology
We wanted to know what's the major strength of Suraj and his company, so we asked him, "What keeps your company moving forward even during challenges?"
He shares, "My team. In the past, we were cheated several times by con
artists in the name of customers & suppliers. However, with the help of my team, we now have a robust due diligence policy to bring customers on board."
While discussing challenges, we also asked Suraj about how his company adapts to digitalization. With that, he replies:
"We allocate the maximum budget for our digital marketing strategies as our customers are widespread across the globe."
Lastly, we asked him, "Would you like to advise young entrepreneurs in your industry?"
"Stay honest. No matter what, stay focused. Do not deviate from your path. You should at least give a decade to anything you start working on because building something from scratch takes time and effort. You will have to spend your first 6 years understanding the industry, building a base, and getting together a team, and after that, you will start getting results. Take everything you read in books or online with a pinch of salt." He concluded.
Connect with Suraj Gautam on LinkedIn.
Find Far Way General Trading LLC on LinkedIn, Twitter, Facebook, Pinterest & Instagram or visit www.farwaycompany.com